Let's talk about what your vagina wants and needs.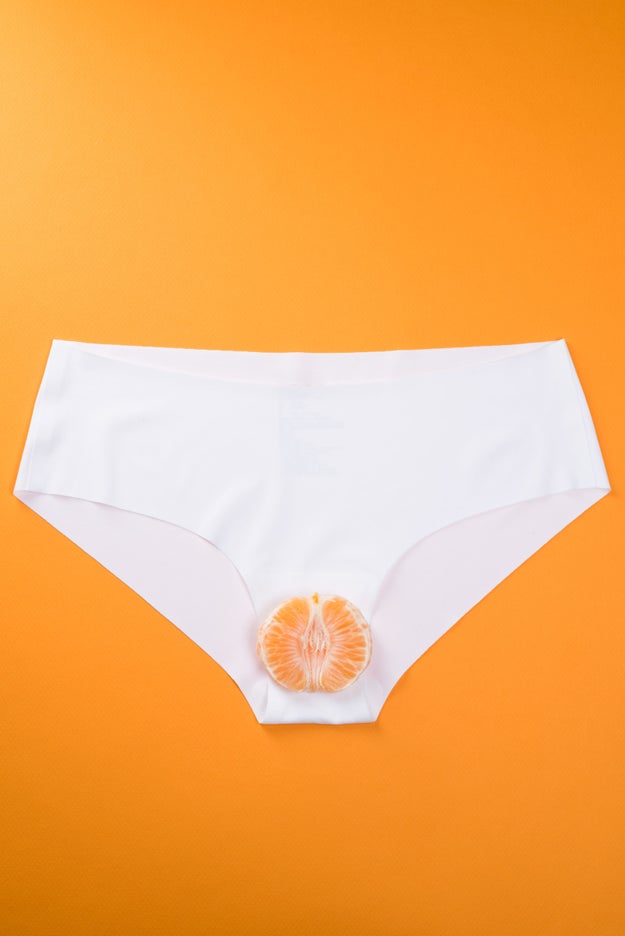 Kate Bubacz / Via BuzzFeed News
It seemed like every other week there was a new product or procedure that promised to "improve" the vagina. There were lasers, weed suppositories, crystal eggs, Bluetooth menstrual cups, and "vajacials" (yes, that means a facial for your vagina), just to name a few. But keeping your vagina healthy really isn't as complicated as these new trends would make you think.
So what are the best things you can do to take care of your vagina and vulva? We reached out to two experts to find out: Dr. Mary Jane Minkin, clinical professor of obstetrics, gynecology, and reproductive sciences at Yale School of Medicine; and Dr. Alyssa Dweck, board-certified OB-GYN, author of The Complete A to Z for Your V.
Do less.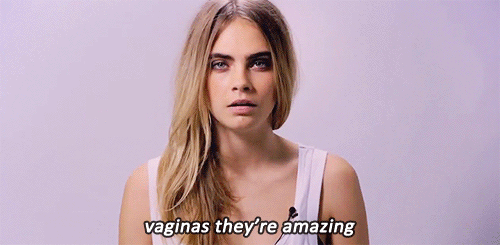 You've probably read about some of the things you can apparently stick up your vagina — from boric acid suppositories to herbal detox "pearls." But according to the experts, the less you mess around in there, the better. "The vagina is like an incredible, self-cleaning oven and it has its own ways of maintaining an acidic pH to keep things balanced and prevent infection," Dweck tells BuzzFeed Health.
So your vagina — the internal muscular canal between your uterus and the outside world — can be left alone. "Doing too much in there can actually throw off the pH or disrupt the natural bacterial flora in the vagina, which keeps us healthy," Minkin tells BuzzFeed Health. Of course, if there's a problem, you should see a doctor, but you don't need to use special suppositories or steam-clean your vagina on the regular to stay healthy. Trust your vagina to do its job.
Channel 4 / Via giphy.com
Say goodbye to douching for good.
Seriously, stop douching. As we mentioned, the vagina cleans itself — so you don't need to flush it out with water or vinegar or any other fluids, Minkin says. And that discharge in your underwear might be annoying, but it's not a sign of uncleanliness. Discharge is a healthy, normal bodily function and it doesn't need to be cleaned out of the vagina.
Besides, douching often does more harm than good. "Douching can kill off the 'good guy bacteria,' or lactobacilli, which we want in there to keep the pH balanced," Minkin says. Some douching kits sold at stores even contain harsh fragrances or antiseptics, which can irritate the vagina. So just don't douche, ever.
Clean your vulva, properly.
The vagina might be self-cleaning, but the vulva — the external part of your genitals, which includes the labia — needs to be washed. Bacteria and smegma (a buildup of oils and dead skin) can hide in the folds of your vulva, and you'll want to clear it out from time to time. But chances are, you're probably cleaning your vulva wrong. "When washing, just use your hands and some mild soap. You don't need to vigorously scrub down there with a loofah or washcloth to get it clean," Dweck says. And if you don't have soap, just plain old water will do.
instagram.com / Via instagram.com
Opt for gentle soaps without fragrances.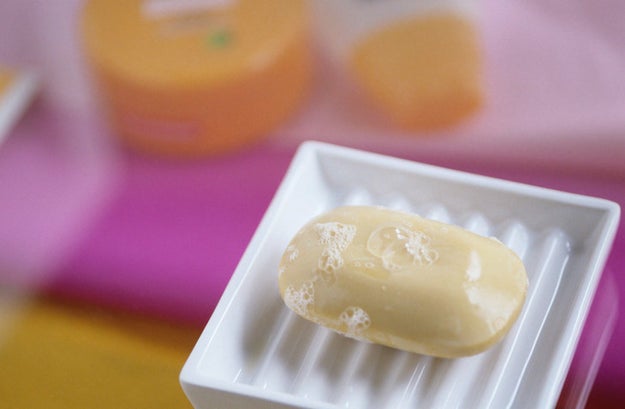 Harsh, scented soaps can cause irritation or an allergic reaction on the vulva. "We're talking about the most sensitive tissue in the body, so the less perfumes and chemicals, the better," Minkin says. The experts suggest using a mild, fragrance-free (not unscented, which can still contain masking fragrances) soap, such as Dove or a simple glycerin or castile soap. Save the apple-scented exfoliating shower gel for your pits and the rest of your body.
Achim Sass / Getty Images / Via gettyimages.com
Lather up down there once a day at most.
You might shower once a day, but you don't necessarily need to lather up your labia every single day, too. "Over-cleaning the vulva can strip the skin of natural oils which are protecting you," Dweck says. So don't worry about skipping the soap down there for a day or two. Even if you shower twice a day or feel the need to wash down there after sex, still try to only lather up your vulva once.
The Gloss / Via theglossdotcom.tumblr.com
Stop rubbing your vulva to death with a towel when drying off.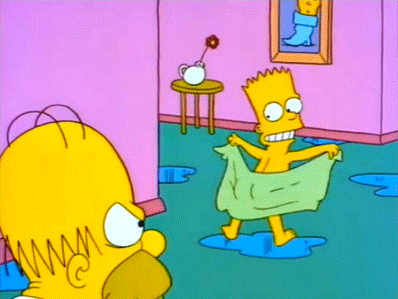 The same rules for washing apply when you dry your vulva: Do not vigorously rub a towel back and forth down there — it's probably too much for the delicate vulvar tissue. "All you need to do is gently pat the area dry with a clean towel," says Minkin. If your vulva is sore or irritated, Minkin suggests using a blow dryer set to cool or the lowest heat setting and holding it about a foot away. "The air can feel soothing and it'll dry the vulva without rubbing," Minkin says.
FOX / Via mmmsimpsons.tumblr.com
Ease off the bath bombs and scented soaks.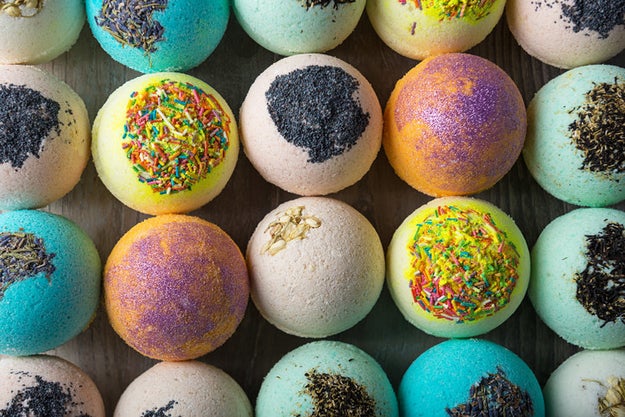 Baths can be a relaxing part of any self-care routine. So why not add a fizzy bath bomb to make it colorful, scented, and Instagram worthy? Well for starters, your vulva and vagina probably don't appreciate soaking in all those fragrances for hours. "Bath bombs and bubble baths can disrupt the pH in your vagina, which can make you more susceptible to irritation or infection," Minkin says.
Does this mean you should toss your stash from Lush? No, but maybe limit the fizzy baths to once or twice a month, and definitely don't use bath bombs if you're already itchy or sore down there. "Bath bombs and bubble baths aren't bad for everyone, but just know they can cause problems, and watch out for irritation after using them," Dweck says.
Pavelkriuchkov / Getty Images / Via gettyimages.com
Stay away from deodorized pads and tampons.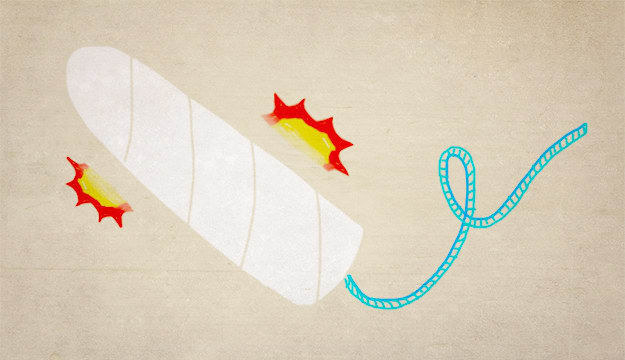 First of all, menstrual blood doesn't need to smell a certain way or be masked by floral or other scents. Second, deodorized pads and tampons are full of harsh perfumes that you definitely don't want near your sensitive vulvar tissue or your pH-balanced vagina. "Scented tampons can disrupt things in the vagina and cause irritation or an allergic reaction, so stick with the fragrance-free products," Dweck says. And it doesn't really matter which type of tampons or pads you use — organic, nonorganic, plastic applicator, cardboard, etc — just as long as they aren't scented.
Jenny Chang / Via buzzfeed.com
Make sure your other hygiene products aren't causing any issues.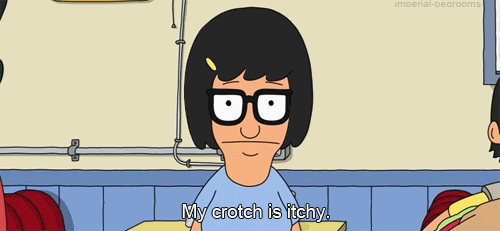 Your genitals could be irritated for a variety of reasons, so don't always assume you have a yeast infection when things get itchy. "A major cause of vulvar irritation is an allergy or sensitivity to ingredients in products we use every day, which can cause irritation, itching, and abnormal discharge," says Dweck.
These products include soaps, lotions, shaving creams, sprays, laundry detergents, and anything else that comes into contact (directly or indirectly) with your vulva or vagina. What you wipe with matters, too. "Beware of wet wipes — the chemicals in them can cause an itchy rash from the vulva to the anus," Dweck says. If you want to be safe, choose products that are fragrance free and have fewer ingredients. Save the fancy lemon verbena lotion for your legs and arms.
If your vulvar irritation is from an allergy, it may take some time, patience, and an allergy test to find out which ingredients you need to avoid — but your OB-GYN and/or dermatologist can help you figure this out.
FOX / Via imgur.com
Get rid of your uncomfortable, impossibly tight underwear.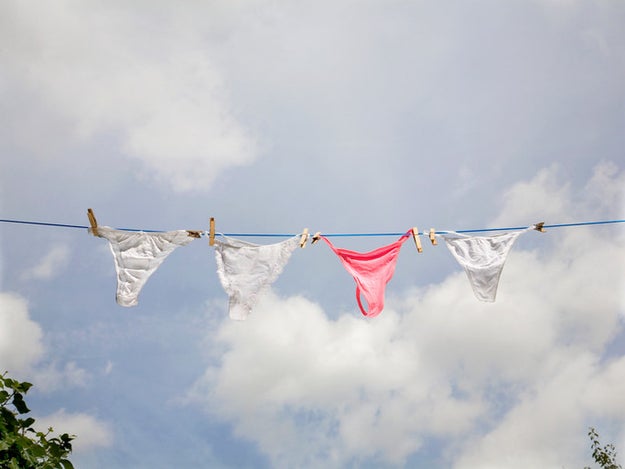 You know those random pairs of super uncomfortable, ill-fitting underwear in the back of your drawer that you only wear out of desperation? It's time to toss them and any other pairs that don't fit you properly. Minkin recommends underwear that's cotton or has a cotton crotch, and the style — thong or panty — doesn't matter, as long as they're comfortable and breathable. "If your vulva and vagina don't get any air, this can make you more prone to yeast infections," Minkin says. Yeast thrives in warm, moist places, so sitting in suffocating underwear all day isn't a good idea.
Seb Oliver / Getty Images / Via gettyimages.com
Embrace your vagina's ~natural scent~.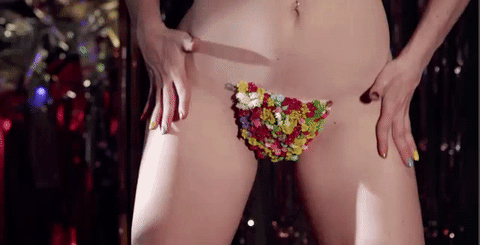 Most people have their own unique vaginal smell that varies with the menstrual cycle and diet, Dweck says, but this is totally normal and nothing to be ashamed of. You don't need to cover it up and you really shouldn't use perfumes or sprays on your vulva, the experts say, because these can be very irritating. Obviously, if you have a foul vaginal odor or one that's accompanied by symptoms like itching, then go to the doctor. But most of the time, your vagina's natural smell isn't anything to worry about. "You are probably more concerned about the way you smell than others are," says Dweck.
HOLYCHILD / youtube.com / Via giphy.com
Prevent ingrown hairs down there instead of picking at them.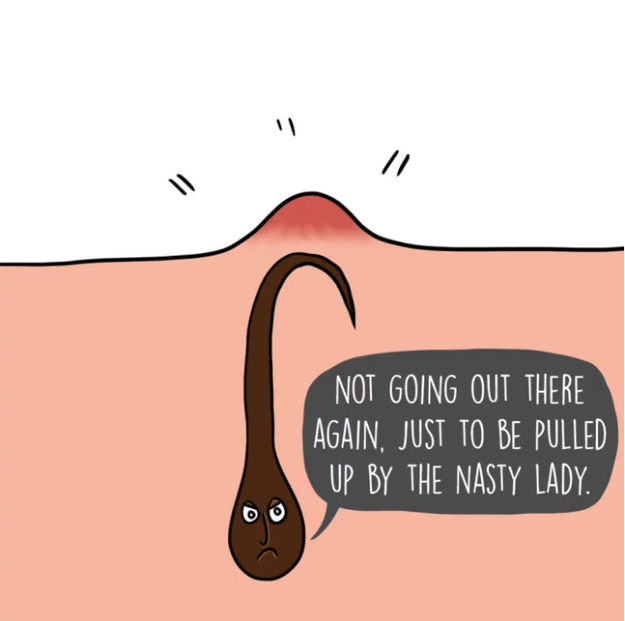 Pubic hair follicles can become clogged and infected (folliculitis), which may look like a whitehead or a red bump. Sometimes these guys are just bad luck, but there are things you can do to help prevent them. Dweck suggests shaving with a fresh, clean razor and replacing it every one to two weeks. If you prefer waxing, go to a reputable place to get it done and gently exfoliate the pubic area before your wax. Another tip is to avoid sitting around in sweaty workout clothes for too long, Minkin says, which can trap bacteria in the pubic area.
It may be satisfying to pop a pimple or extract an ingrown hair, but you really shouldn't. Breaking the skin down there can make you more susceptible to infection, Dweck says. Resist the urge to pick and use hot compresses instead — in most cases, the the angry hair follicle will go away on its own. And if any bumps don't go away, see your OB-GYN.
Flo Perry / Via buzzfeed.com
Start checking your vulva for new moles or marks.
Just because your vulva never sees the light of day doesn't mean you can't get skin cancer or other skin conditions down there. So make sure to check your vulva and the surrounding skin using a mirror when you do self-examinations to check for signs of skin cancer. "Look out for any new moles, birthmarks, or skin tags and anything that's repeatedly scabbing or bleeding," Dweck says. See a dermatologist if you notice anything weird.
instagram.com / Via instagram.com
Pick the right vibrator or sex toy for your vagina.
Masturbation is an amazing sexual outlet and it's good for you, too! Toys can really help enhance pleasure during masturbation and they come in all shapes and sizes so you can pick the right one for your unique vaginal anatomy. The trick is finding out what gets you off, then buying a toy that can help you do that or do a better job.
"The ultimate pleasure site is the clitoris, but a lot of women find that there is a pleasure zone on the anterior surface, or the top and front, of their vaginal canal," says Dweck. You can find this spot by inserting a finger and moving it upward in a "come hither" motion. Wherever your ~spot~ is, find a sex toy that will stimulate it and go have fun! Here's a list of great sex toys and a comprehensive list of masturbation tips to start.
Igor_avramchuk / Getty Images / Via gettyimages.com
Find a lube that you love, and use a lot of it during foreplay and sex.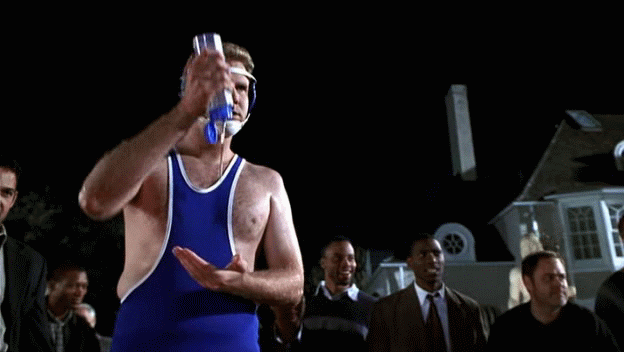 "Lube is underrated and underused," Dweck says. You should be well lubricated for sex because it helps prevent microtears in and around the vagina, which can become infected. The vagina does self-lubricate when you're aroused, Minkin says, but sometimes this isn't enough, or the vagina is dry due to things like hormones or medication. That's where lube comes in handy.
Not all lubes are created equal, and you should pick the right kind for your individual needs. Water-based lube is the safest bet, Dweck says, because silicone-based lubes can degrade sex toys and oil-based lube can destroy latex condoms. If you have sensitivities or allergies, choose a lube with fewer ingredients and stay away from the scented or flavored stuff. Minkin also suggests buying trial-size lubes to test before you invest in a big bottle.
DreamWorks / Via giphy.com
If sex is always painful, don't ignore it — go to the doctor.
Penetrative sex can be uncomfortable sometimes. But if you've tried using lube and switching positions and sex is still painful every time, it might be time to see a doctor to see if something else is going on, Minkin says. Problems that can make sex painful include infections, vaginal dryness, muscle spasms, or even a condition called vulvodynia, which causes chronic pain around the vulva. "If the pain is deep in your pelvis, go see your health care provider right away because you could have a cyst or fibroids," Dweck says. In any case, sex doesn't have to be a painful experience.
Find an OB-GYN you genuinely like, and talk to them about everything.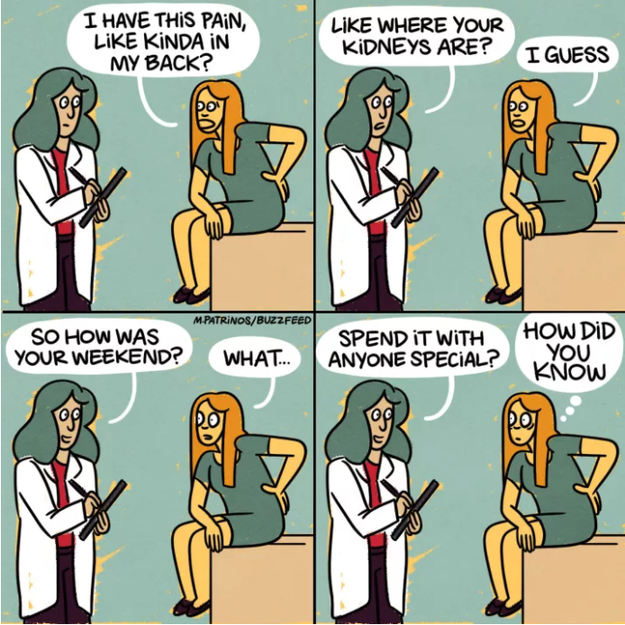 Your OB-GYN is there to help keep you and your vagina as healthy as possible. You should find a provider who makes you feel comfortable, because you'll need to be able to tell them about anything and everything going on down there. "I think the biggest resolution people should make is to talk more about their vagina and not feel ashamed or nervous," Dweck says.
You should see your OB-GYN at least once a year for an annual exam, Minkin says, and whenever else a visit is necessary. When you go in, make sure to ask all of your questions, even the embarrassing ones you google at 2 a.m.
Maritsa Patrinos / Via buzzfeed.com
And go see your OB-GYN instead of self-treating those "recurrent yeast infections."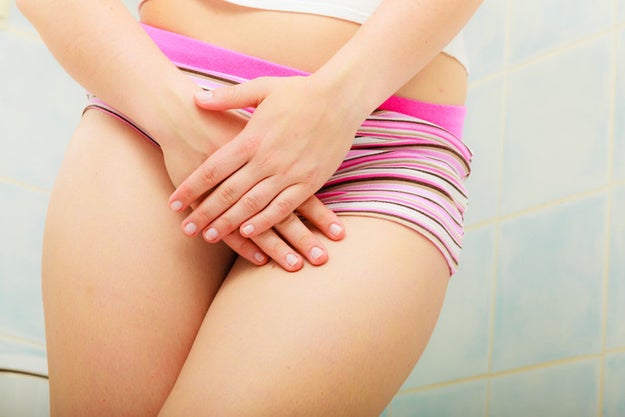 Yeast infections are very common and nothing to panic about. But if you get them repeatedly and over-the-counter meds only help in the short term, there might be another problem going on down there. "When it comes to yeast infections, women only self-diagnose accurately about one-third of the time, so they are often wrong," Minkin says. It could actually be an allergy, bacterial vaginosis, trichomoniasis, or another STI — but the only way to know is if you go to your OB-GYN so they can do the right tests and treat the problem.
Voyagerix / Getty Images / Via gettyimages.com
Love your labia.
There are a lot of procedures and surgeries out there to rejuvenate, tighten, or enhance things down there — but that does not mean your vulva needs fixing. According to the experts, one of the best things you can do is stop believing your vulva needs to look a certain way and stop comparing yourself to other people or images. "Labias come in all shapes and sizes and they're all variations of normal," Dweck says. It's never too late to start showing your labia some love.
instagram.com / Via instagram.com
BuzzFeed News